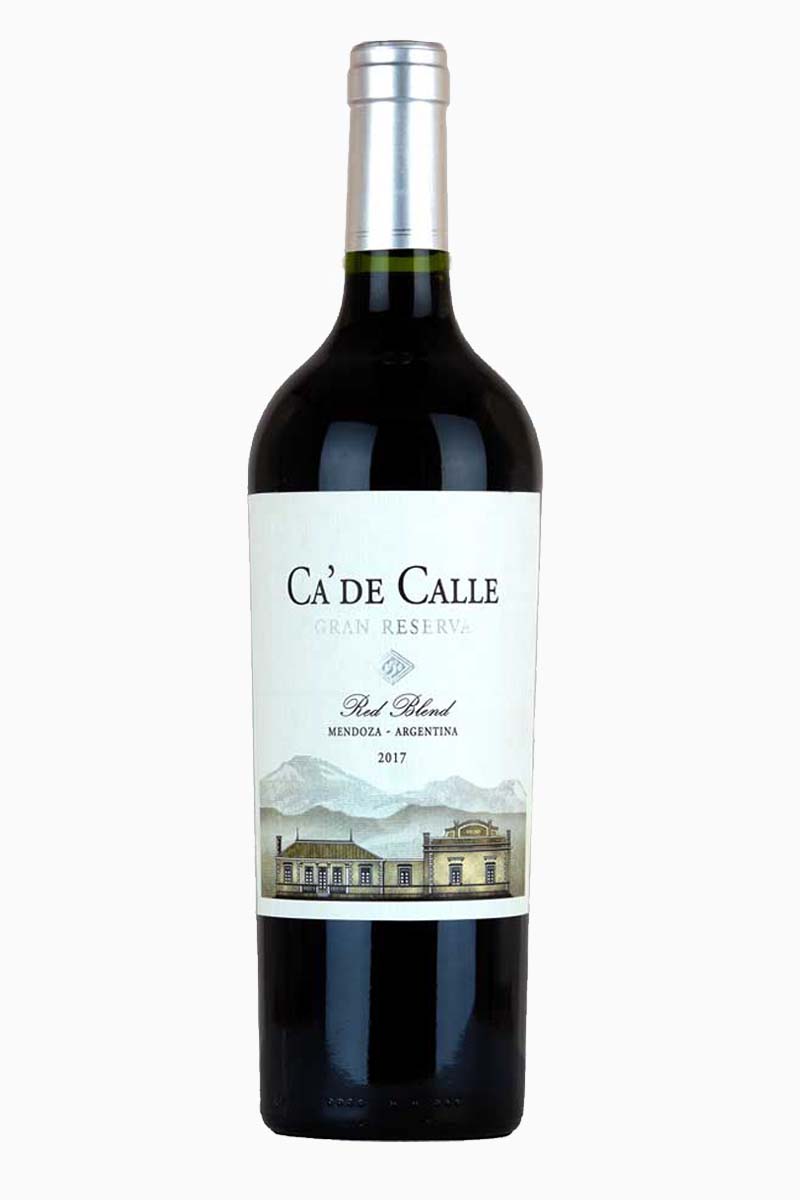 Ca' de Calle Gran Reserva
SOBRE EL VINO

Nuestro objetivo para este vino es la combinación de las diferentes facetas de grandes denominaciones de Mendoza en un corte de alta gama independiente. Incluye fruta de las mejores fuentes de vid viejo de Lujan y algunas de las mejores frutas de clima fresco en el Valle de Uco, particularmente Altamira y San Carlos.

Se trata de un vino hecha completamente manualmente desde la viña a la bodega. Toda la fruta es cultivada sin el uso de pesticidas o herbicidas. Las malas hierbas son azadonadas a mano. A continuación, en la cosecha, la fruta es cosechada y seleccionado a mano, entregada por gravedad y fermentada con levaduras nativas. Luego es guardada 100% en barricas de roble francés y americano nuevos y 1, 2 y 3 años de uso en nuestra sótano subterránea.
Se llama Ca' de Calle en homenaje a Elvira Calle, la fundadora de la bodega.

Vintage: 2015 | Wine Type: Vino Tinto
Varietal: Corte (65% Malbec, 12% Petit Verdot, 10% Bonarda, 8% Cab Sauv, 5% Syrah)
Origin: Argentina | Appellation: Perdriel, La Consulta, and Altamira, Mendoza
Elaboration: Hand harvested from top parcels of organically farmed grapes. Carefully sorted. Cellar work using gravity flow. All lots kept separate until final blend is determined. Aged 12 months in French oak barrels.
Winemaker: Kirk Ermisch and Guillermo Heras

NOTAS DE CATA

Dark purple color. Forward nose of toasty plums, black cherry, and lilac flowers. On the palate the wine is rich and full, with layers of berry flavors and a hint of bittersweet chocolate. Finishes soft with balancing acidity.
DATOS ANALÍTICOS

Production: 600 cases | Alcohol: 14.0% | TA: 5.13 g/l | Residual Sugar: 2.65 g/l | pH: 3.6
PRENSA & PUNTOS

2013 - Decanter, "Highly Recommended"
2013 - 90 Points, Wine Advocate
2013 - Gold Medal, Malbec al Mundo, 2015
2012 - 91 Points, Tim Atkin
2011 - 90 Points, Wine Enthusiast
2011 - Grand Gold Medal (Double Gold) 96 Points, World Malbec Competition
2011 - 92 Points, "Exceptional," Beverage Tasting Institute
2010 - 90 Points, Robert Parker's Wine Advocate

TECH SHEET PDF